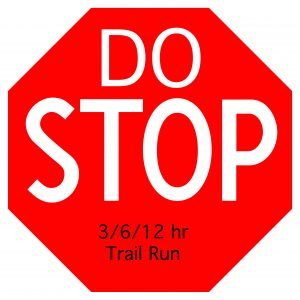 Do Stop Trail Race
3, 6, 12, and 24 Hour
February 17-18, 2023
At the G6 Ranch, 10990 Sowma, Bremond TX, 76629
Due to a couple weather delays in the past 2 years (i.e. Tornadoes Watches/Warnings), we have changed the dates for everyone's safety and enjoyment.
Set in the natural beauty of the Texas countryside, join us on the private, rolling trails with sights, sounds, and challenges for all running skill levels.
You know how most races provide encouragement you to keep going? Aid stations are set up to give the runners the support they need and get you moving. Not us. The Do Stop trail race wants you to come out to Bremond, TX, to start a nice long day of running on a gentle 2 mile loop. You can choose to run for 3, 6, 12, or 24 hours. We will give out medals for your greatest distance achieved. The most enduring who complete 64 miles or 100 Miles within the time period will receive belt buckles.
Along with medals, each participant will receive a prize just for coming out.
Schedule:
Friday, February 19th— 24hr Race Day!
6:30 PM – 24 Hour Race begins. (Flashlight Recommended)
Saturday, February 18th— 12hr/6hr/3hr Race Day!
6:30 AM – 12hr Race beings.
7:00 AM – 6hr/3hr Race beings.
Race Cutoff Times:
12hr/24hr — 6:30 PM on Saturday, February 18nd.
6hr — 1:00 PM on Saturday, February 18nd.
3hr — 10:00 AM on Saturday, February 2nd.
Minimum Course Times Required:
3 hour race – 2 hours, 40 minutes
6 hour race – 5 hours, 15 minutes
12 hour race – 10 hours, 30 minutes
24 hour race – 21 hours, 30 minutes
Course:
The course is on easy trails with a small section of easy single track. There is about a 60 ft difference between the low sections and the high sections which will have you making the climb 4 times.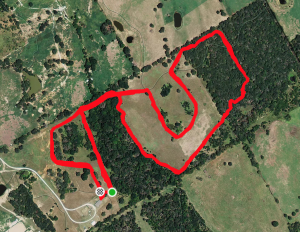 Aid Stations:
There will be an aid station set up just outside the course at the start-finish area. We'll have lots of goodies, chairs, and activities for you to enjoy. Spend as much or as little time as you want at the aid station. We will never tell you to get moving or tell you how close you are to getting a buckle if you can just do one more lap.
If you don't spend the minimum required time on the course (listed above), you get a DNF (did not finish) regardless of how many miles you do. It's all about staying mentally strong and finishing what you set out to do without someone holding your hand. Naturally, pacers are not allowed, but if you want to team up with other runners to support each other as you run – go for it!
Cup-Less:
This race will be cup-less! That means there will be no cups for any liquids on the course. This helps us to minimize our footprint and maintain sustainability. It is strongly encouraged to bring a bottle to fill and have between aid stations.
Awards:
Men and Women's Overall and Age-group awards will be given to top 3 finishers of each race.
Age Groups:
Under 18
18-29
Every 10 years after that, as high as we need to go.
Camping:
Camp sites are available for anyone interested. Just let us know. Port-o-Potties will be available for campers, but water and showers may be limited.
Discounts:
Kids 15 years and under fixed pricing of

$30 for all races.

Teachers, First Responders, and Military Service mend and women receive 10% off.